Sku:

18817

Vendor: Au Marche, the European Market
Manchego Cheese, 1/4-lb
We do not ship this item. It is only available in-store and for local delivery.

Made with the milk of La Mancha sheep. Manchego is sharp in flavor though mellows out in the finish. The 12 month aging is fuller in flavor and drier, 3 month is less flavorful and moister in texture.

This item is not available to ship, but is available for pickup-in-store, curbside-pickup or for delivery to homes and offices located in Lawrence, Kansas. If you order this item for shipping via USPS we will refund your credit card for the amount of this item. Thank you for your understanding!
View full details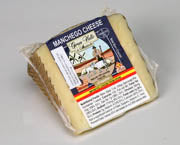 SUBHEADING
Recently viewed products