Sku:

10111

Vendor: Stiglmeier
Stiglmeier Mettwurst, 1-lb.
We do not ship this item. It is only available in-store and for local delivery.

This Mettwurst tea sausage spread is a very fine ground salami spread made from pork and beef. It owes its distinctive flavor and color from a healthy dusting of paprika.

Serving Instructions:

Mettwurst is a cured sausage which is ready to eat as is with no cooking required. Customers are encouraged to enjoy it straight from the package. This spread is best served cold on rye, toasted whole wheat bread, or crackers.

Ingredients:

Pork, Beef, Salt, Paprika, Spices, Natural Smoke Flavoring, Sugar, Dextrose, Garlic, Sodium Erythorbate, Sodium Nitrite

Allergens:

Gluten-Free

This item is not available to ship, but is available for pickup-in-store, curbside-pickup or for delivery to homes and offices located in Lawrence, Kansas. If you order this item for shipping via USPS we will refund your credit card for the amount of this item. Thank you for your understanding!
View full details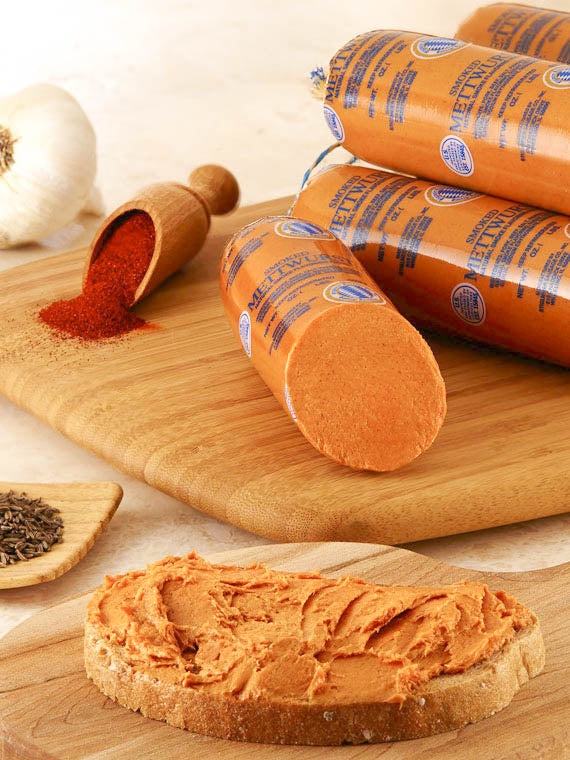 Stiglmeier Mettwurst, 1-lb.
SUBHEADING
Recently viewed products