Sku:

858735006282

Vendor: Stiglmeier
Stiglmeier Weisswurst, 1-lb.
We do not ship this item. It is only available in-store and for local delivery.

The sausage Bavaria is famous for—Weisswurst is a mild but delicious combination of pork and veal, seasoned with parsley and a fresh hint of lemon zest. For a truly authentic experience, see the traditional Bavarian method of serving Weisswurst below.

This sausage is particularly good for serving to children because of its exceptional flavor and mildness.

Serving Instructions:

Weisswurst is fully cooked in a natural casing with no nitrites. Served best when heated. Here is the traditional Bavarian way of serving Weisswurst:

Bring water to boil, drop in Weisswurst, turn heat to very low, cover, and let sit for 15 minutes until heated through. Put in terrine with hot water and set on table. Serve with potato salad, bread, and our imported Weisswurst Senf (mustard).

Weisswurst also goes great on the grill or pan-fried over a low heat, turning often to prevent the casing from splitting.

Ingredients:


Pork, Veal, Water, Pork Skins, Onions, Salt, Parsley, Lemon Rind, Sugar, Spice, Hydrolyzed Soy Protein, Sodium Phosphate, Dextrose

Allergens:

Soy, Gluten-Free

This item is not available to ship, but is available for pickup-in-store, curbside-pickup or for delivery to homes and offices located in Lawrence, Kansas. If you order this item for shipping via USPS we will refund your credit card for the amount of this item. Thank you for your understanding!
View full details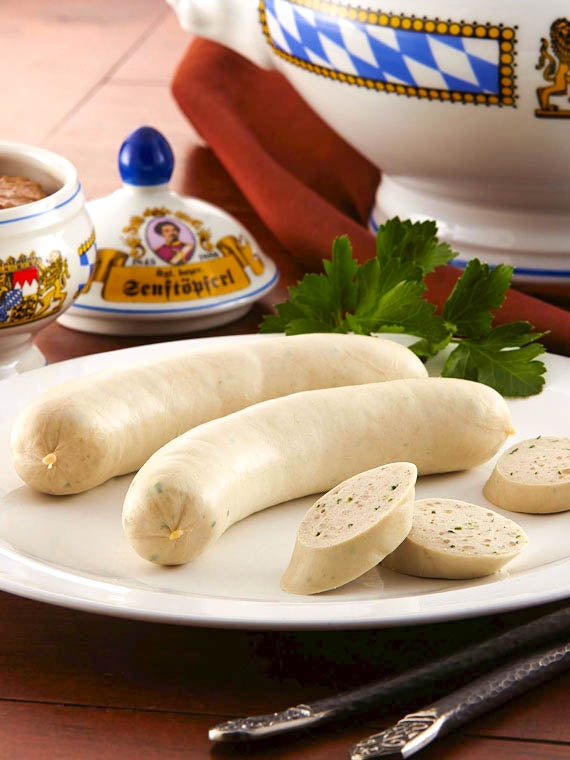 Stiglmeier Weisswurst, 1-lb.
SUBHEADING
Recently viewed products