Sku:

858735006015

Vendor: Stiglmeier
Stiglmeier Alpine Sausage, 1-lb.
We do not ship this item. It is only available in-store and for local delivery.

Alpine sausage is a mildly flavored, bologna-style sausage with a texture and taste made even more unique by the vegetables and the sunflower, sesame, and poppy seeds mixed throughout. An excellent choice to add a bit of interest to any cold cut sandwich.

Serving Information:

Alpine sausage comes fully cooked and ready to eat. Simply slice thin and serve with your favorite bread and mustard for a delicious cold cut sandwich.

Ingredients: 

Pork, Water, Seasoning (Sunflower Hearts, Sesame Seed, Dehydrated Carrots and Peppers, Poppy Seed, Chopped Onions, Parsley Flakes), Salt, Spices, Sugar, Sodium Phosphate, Sodium Erythorbate, Dextrose, Sodium Nitrite

Allergens:

Gluten-free

This item is not available to ship, but is available for pickup-in-store, curbside-pickup or for delivery to homes and offices located in Lawrence, Kansas. If you order this item for shipping via USPS we will refund your credit card for the amount of this item. Thank you for your understanding!

 
View full details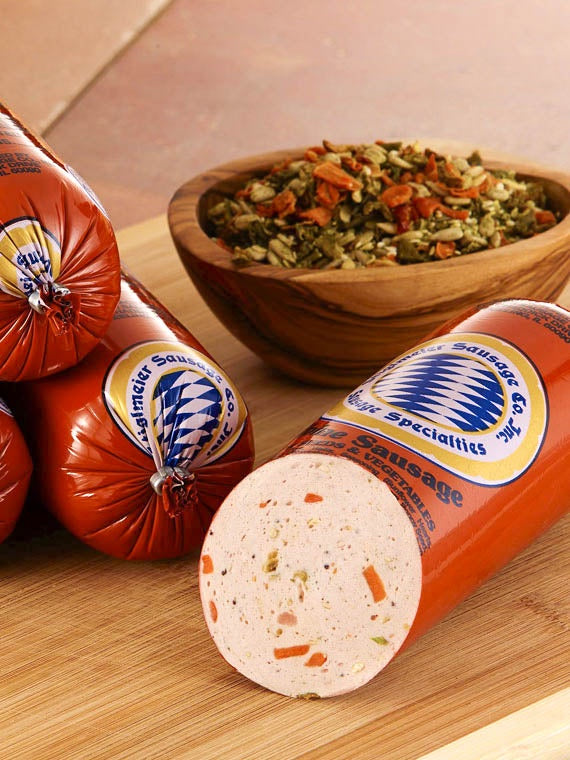 Stiglmeier Alpine Sausage, 1-lb.
SUBHEADING
Recently viewed products