Sku:

042251000491

Vendor: Alexian
Truffle Mousse Pate, 5 oz.
We do not ship this item. It is only available in-store and for local delivery.

Creamy spreadable mousse featuring pork & poultry liver with sherry, truffle & wild mushrooms. Typically enjoyed as a spread on a mild cracker, bread or toast points.

This item is not available to ship, but is available for pickup-in-store, curbside-pickup or for delivery to homes and offices located in Lawrence, Kansas. If you order this item for shipping via USPS we will refund your credit card for the amount of this item. Thank you for your understanding!
View full details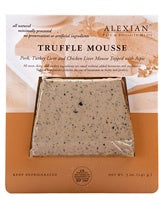 Truffle Mousse Pate, 5 oz.
SUBHEADING
Recently viewed products