Sku:

077901421425

Vendor: President
President Butter French, 7oz.
We do not ship this item. It is only available in-store and for local delivery.

From Northern France, this 82% fat European style unsalted butter is in foil wrapped bricks. Use in any recipe where the butter flavor dominates such as butter sauces, butter cookies, pound cake or icing.

 

This item is not available to ship, but is available for pickup-in-store, curbside-pickup or for delivery to homes and offices located in Lawrence, Kansas. If you order this item for shipping via USPS we will refund your credit card for the amount of this item. Thank you for your understanding!
View full details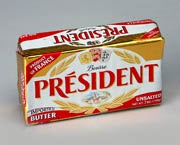 President Butter French, 7oz.
SUBHEADING
Recently viewed products