Sku:

070551100085

Vendor: Smithfield
Smithfield Cream Cheese, 8 oz.
We do not ship this item. It is only available in-store and for local delivery.

Traditional American cream cheese, made with the original Amish recipe. Rich and delightful, very versatile.

This item is not available to ship, but is available for pickup-in-store, curbside-pickup or for delivery to homes and offices located in Lawrence, Kansas. If you order this item for shipping via USPS we will refund your credit card for the amount of this item. Thank you for your understanding!

 
View full details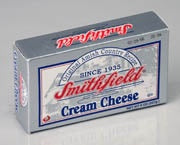 Smithfield Cream Cheese, 8 oz.
SUBHEADING
Recently viewed products